A story about being naked. Written, illustrated, printed and bound by Ray Ray Mitrano. Copyright © 2008 Ray Ray Mitrano. All rights reserved.
Support the 10th anniversary printing with a share in my CSA $30 via PayPal
A stand-up art-comedy/performance I Am A Naked Person variety act will be touring USA Summer 2018 ::: Hybrid approach adaptable to various venues, events, and gatherings. Dates updated below. Send over any collaborative ideas! #iamanakedperson
$30 via PayPal
I Am a Naked Person | Promote Your Page Too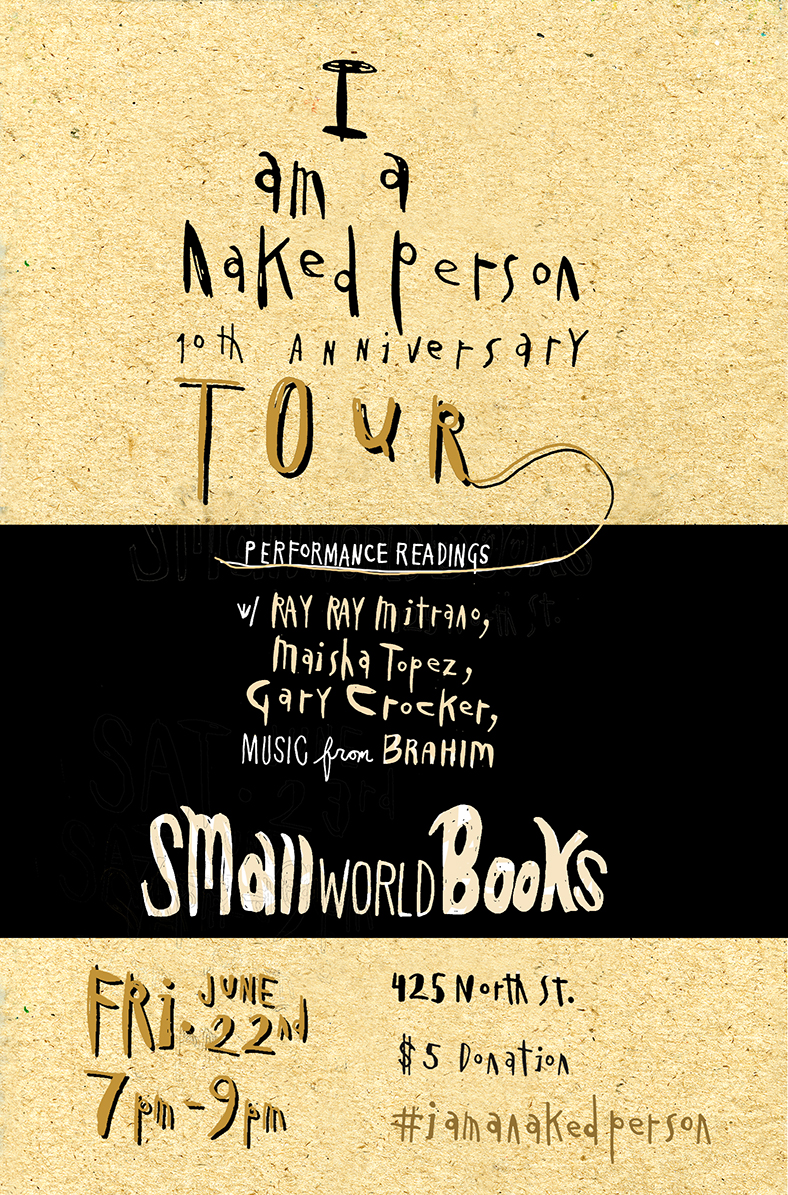 A collaborative art performance variety act in the garden of Small World Books will launch this hybrid tour into Summer 2018
Join for interactive reading, potluck eating, and fire burning with guest accompaniment from other ROC based artists!
Live music from Brahim at 9pm
<> $5 Suggested Donation
Pay What You're Able/Think It's Worth <>
I Am a Naked Person: Tour 2018
Fri. June 22nd - Small World Books - Rochester, NY
Sat. June 23rd - hub14 - Toronto, ON
Sun. June 24th - Pine Apple Co. - Buffalo, NY
Sat. June 30th - Rancho Inn - Ojai, California
Tues. July 3rd - Lyric Hyperion Theater - Los Angeles, Calfornia
Thurs. July 19th - Block Buster Video w/ MD Woods - Allston, MA
Fri. July 20th - Sun Tiki w/ MD Woods - Portland, ME
Sat. July 21st - OK House w/ MD WOODS - Lowell, MA
Tues. July 24th - The Orange Peel w/ MD Woods - Albany, NY
Sat. July 28th - Ben's Adirondack Porch - Wadhams, NY
Thurs. Aug. 2nd - Greenkill: Voiceless Readings - Kingston, NY
Fri. Aug. 3rd - EUREKA! Outhouse Gallery - Clove Valley, NY
Mon. Aug. 6th - Deer Creek Farm - Liebhart, NY
Sat. Aug 25th - Eco Collective - Chicago, IL
Weds. Aug. 29th - Jalopy Theatre - Brooklyn, NY
Sat. Sept. 1st - The Spirit Room - Rochester, NY
This is a hybrid-tour approach that's adaptable to various venues, events, and gatherings. Look out for schedule updates. Send over any collaborative ideas! #iamanakedperson