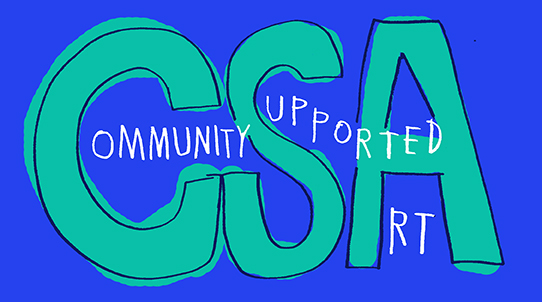 In the essence of a farm CSA (Community Supported Agriculture) where a farmer receives financial support from individuals at the onset of a growing season, for a share of the anticipated harvest, Community Supported Art allows for an artist to produce work based on the support of those interested in receiving it throughout the year. Once harvesting begins, farmshare subscribers receive boxes of produce at scheduled pick-up locations, farmers markets or even the farm itself. An artshare works similarly. An audience pledges their financial support and an artist works toward fulfilling their commitments to a creative livelihood. The work produced is delivered though mail as well as at community establishments and public events. Other harvests, such as a short films or documented performances, might be available online especially for shareholders, to be viewed during certain times of the year.

A share for the seasonal work of Ray Ray Mitrano might include self-published books, drawings and hand-written stories received though mail, along with live online performances and access to special video animations. If in town together, arrangements for projected film screenings, collaborative projects and other interactive based work could be scheduled. Based on the amount of support, ideas could evolve and become realized in ways currently unknown. The community is in a position to help the artist grow the art. See more work from previous year's shares here.
Why join a CSA?
• Supporting an artist throughout the year allows work to be made sustainably. The artist can put more energy into enacting ideas with a supportive audience awaiting each season.
• Members are taking part in bringing art into their community; whether it be a physical place or an online space, the artist is able to connect with a specific, focused group of supporters.

• It makes art more affordable! An artist who can bring particular work to a supportive audience consistently, does not have to sell work at "art world" prices to make up for gaps between sporadic sales.


Individuals can choose a share that works best for them:
Full Share $120 includes four seasons of artwork delivered in January, April, July, and October 2020
Seasonal Share $30 or more includes artwork delivered during the upcoming season(s) or those specifically chosen throughout the year. Shareholders and Ray Ray will keep in touch about which season's share they'll be receiving.
Installment Based Full Share $30 every three months includes artwork delivered each season over the course of four payments: January, April, July and October 2020. Requires signing up for a free PayPal account. Other payment arrangements can be made based on inquiry!
Shortly after signing up, a welcome thanks will be sent out along with confirmation of address. Email rayray@rayraymitrano.com with any questions or ideas.
An artist manifesto for Community Supported Art, Ray Ray Mitrano 2014