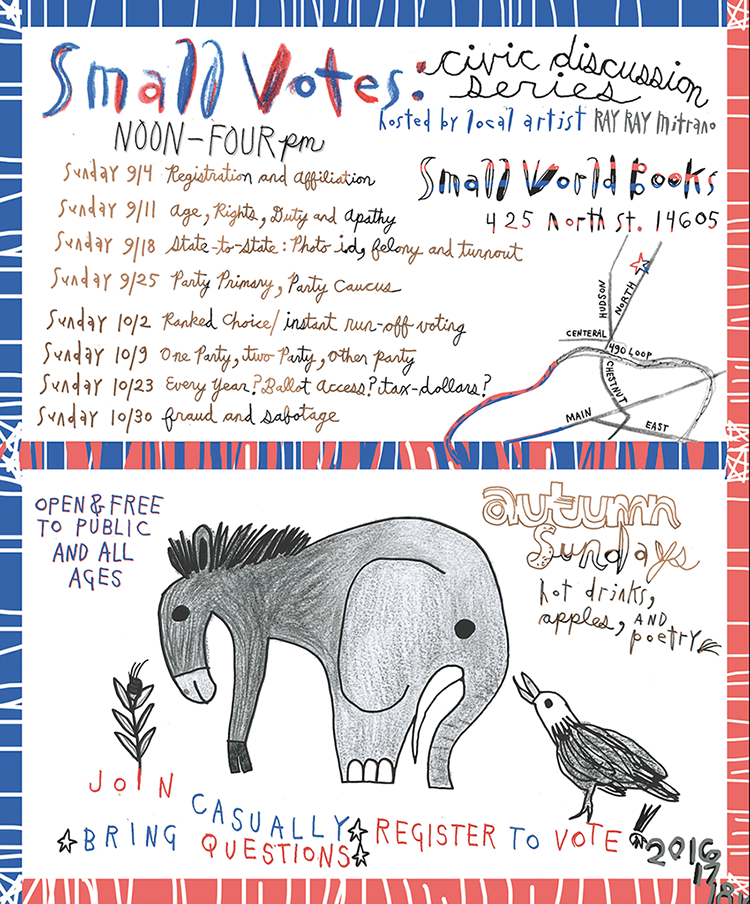 Small Votes: Weekly Autumn Sunday Afternoons
"A weekly voter discussion series hosted by local artist Ray Ray Mitrano at Small World Books throughout this fall election season.
Join in casually with themed afternoons. Coffee table talk, drawing based experiments, open podium readings and other question based excercises will be orchestrated to explore various topics on voting."
Free and open to the public. See full schedule for themes:
Sunday 9/4 Registration and Affiliation
Sunday 9/11 Age and Rights, Duty and Apathy
Sunday 9/18 State-to-State: Photo I.D., Felony and Turnout
Sunday 9/25 Party Primary, Party Caucus
Sunday 10/2 Ranked Choice/Instant Run-Off Voting
Sunday 10/9 One Party, Two Party, Other Party
Sunday 10/23 Every year? Ballot Access? Tax Dollars?
Sunday 10/30 Fraud and Sabatoge
Contact rayray@rayraymitrano.com with any questions and ideas. Hot drinks, apples, and Monroe County voter registration forms provided.
Sunday 10/30 (Fraud, Sabatoge and More Apathy)
Do you have to register to vote every year? #smallvotes participant had an eye-opening realization today. Chose to derange their identity in similar confusion to public understanding of our electoral process.
What's on your ballot next month? How is it laid out? Who runs unopposed? Who votes? This week we'll be looking at voter fraud, sabotage, and various perspectives on apathy. Join at Small World Books with questions, thoughts and curiousity. If ya've been meaning to participate in one of these autumn discussions, this is the one to come out!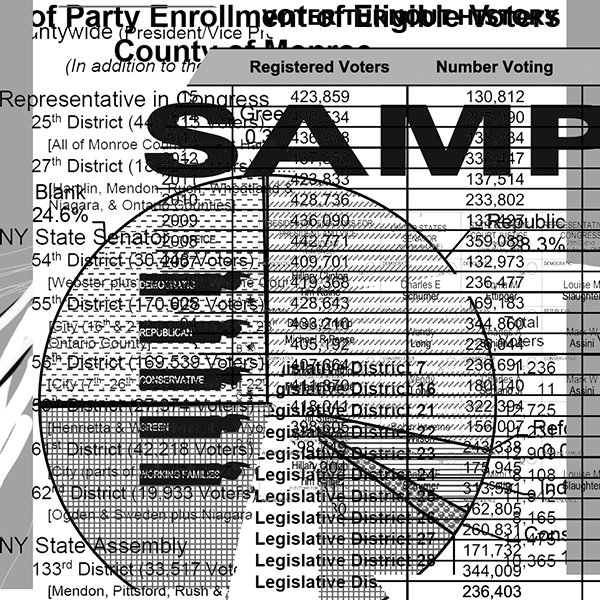 Sunday 10/23 (Every Year? Ballot Access? Tax Dollars?)
Wrote our elected representatives at Small World Books yesterday. Join next Sunday for discussion on voter fraud, sabotage and apathy. Bring your perspectives!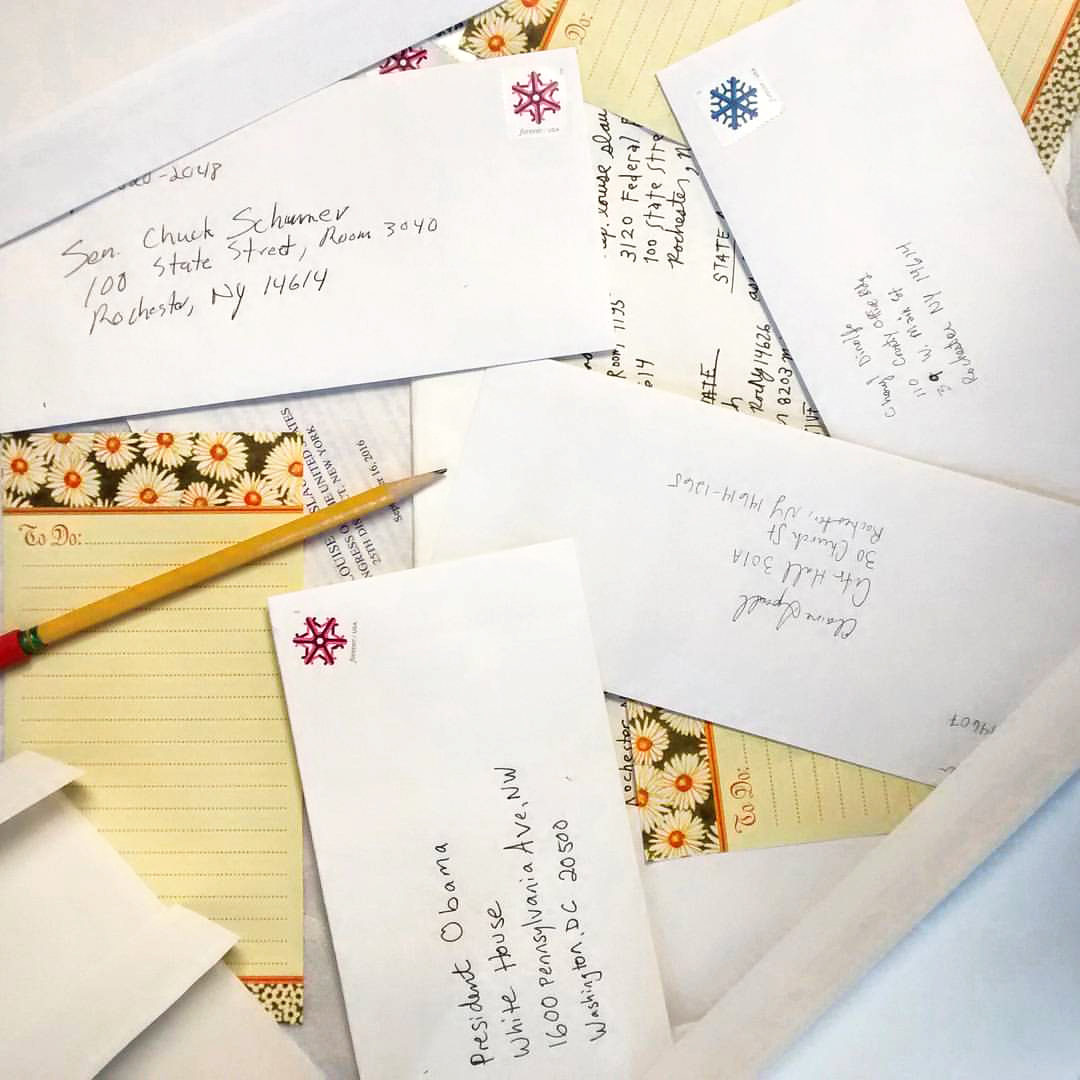 More exploration of civics through art Sunday 10/23 in the Small World Books potluck garden. Join casually Noon-4PM
Sunday 10/9 (One Party, Two Party, Other Party)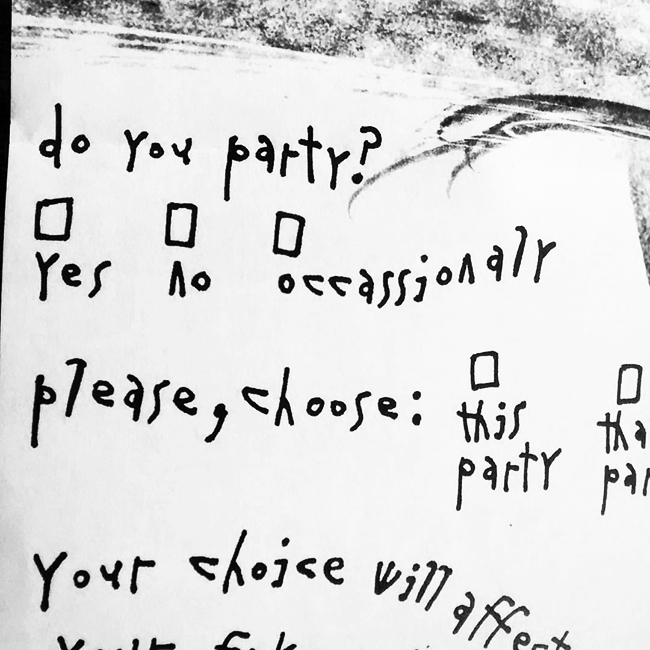 Do you party? Join casually to explore parties throughout history to current. What do they do? When do they not? Two Party System? Proportional Representation? How?
*Potential guest local party speaker this week!
Sunday 10/2 (Ranked Choice/Instant Run-Off Voting)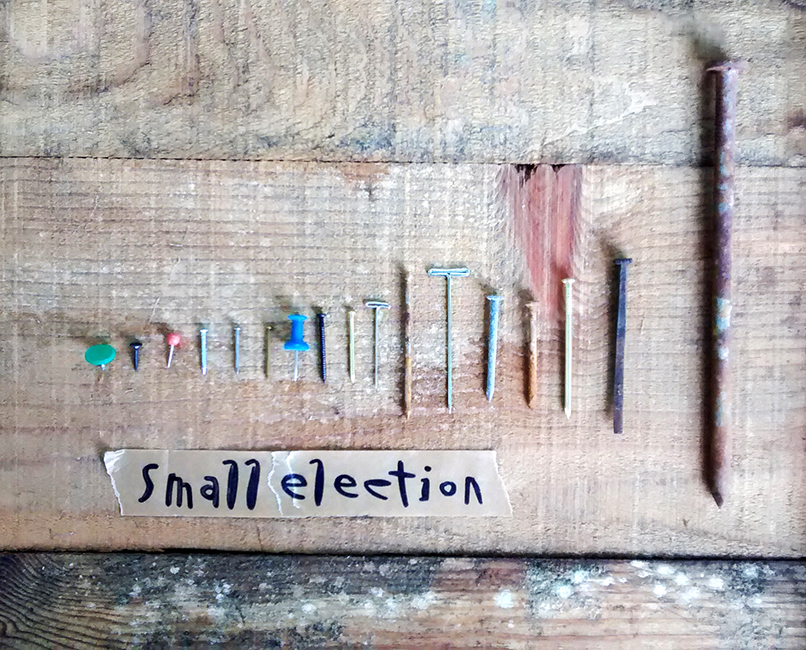 "Apeel voting was used to referendum a decision on the ranked stump vote primary that ultimately led to an elected nail candidate through the general deck vote."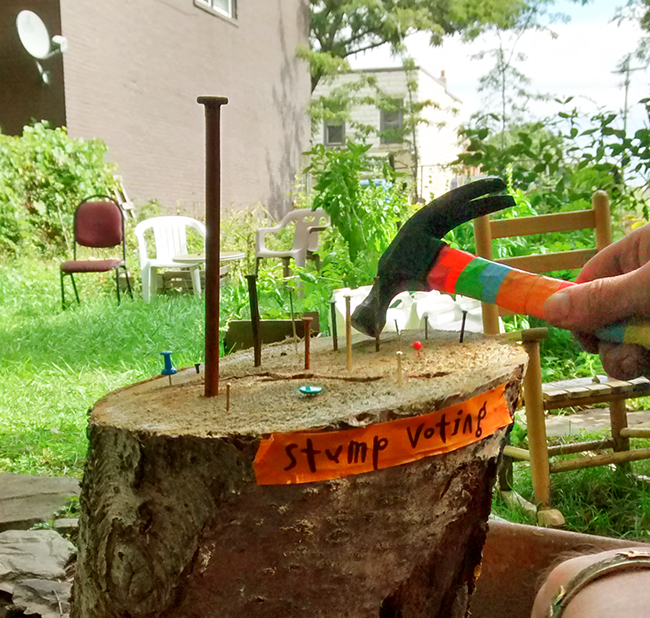 Stump Voting: Candidates are driven into the primary stump, the first four to become flush moved onto the small election.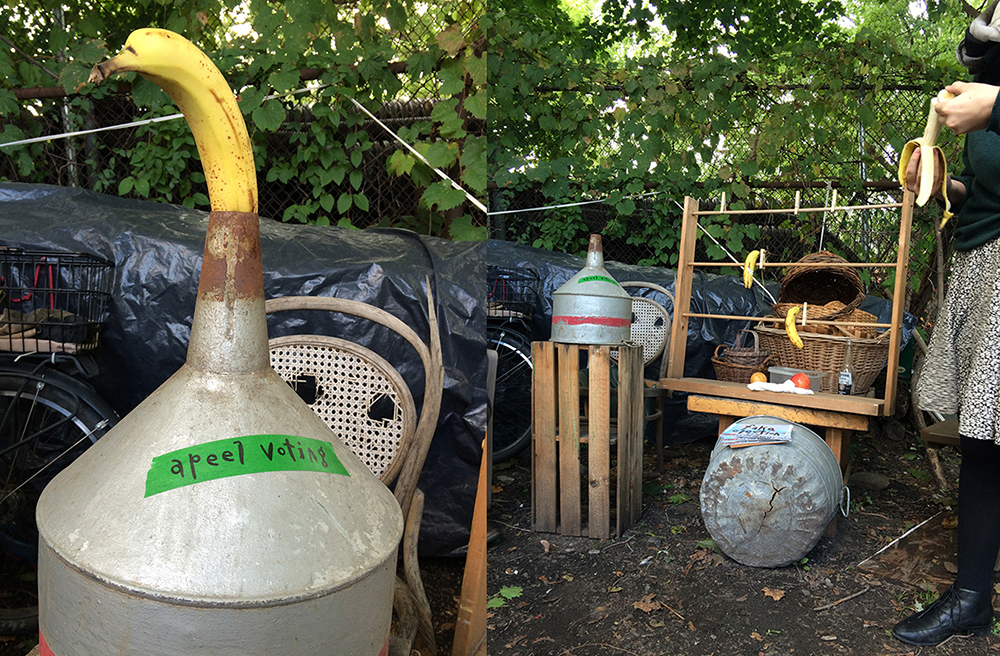 Apeel Voting was used to determine if a certain stump voter's flung hammer was cast properly. The small referendum had all small voters take a banana, sit, eat and think it over. Those who placed the peel in the garden compost pile were for "Yes" and eaters who put their peel in the garbage can voted "No". Some chose to eat apples and obstain.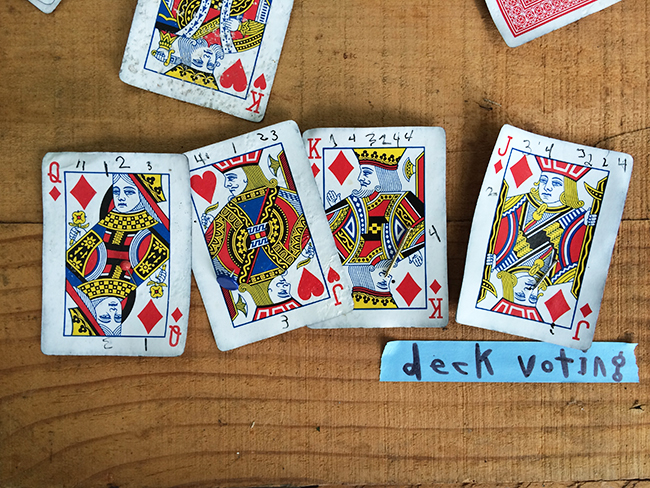 Upon all the candidates being stump voted from the primary, deck voting was used to small elect one nail. Small voters ranked each preferentially and the first candidate past the 50% threshold of votes was elected!
See videos of stump voting:
Ranked choice stump voting was hammered in last week's meet. Join this Sunday for excercises in this party, that party and other parties. Potluck in the Small World Books garden!
Stump voting today! Join next week in the Small World Books garden for potluck civic discussion through art concepts.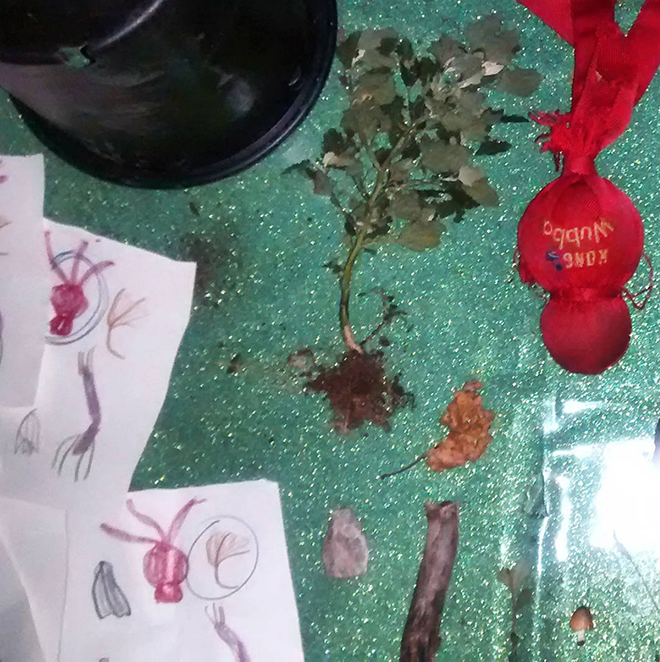 We'll be experimenting with approaches to voting utilizing the Small World Books environment this week. Come by for some potluck civic discussion! Sunday Noon-4pm

Sunday 9/25 (Party Primary, Party Caucus)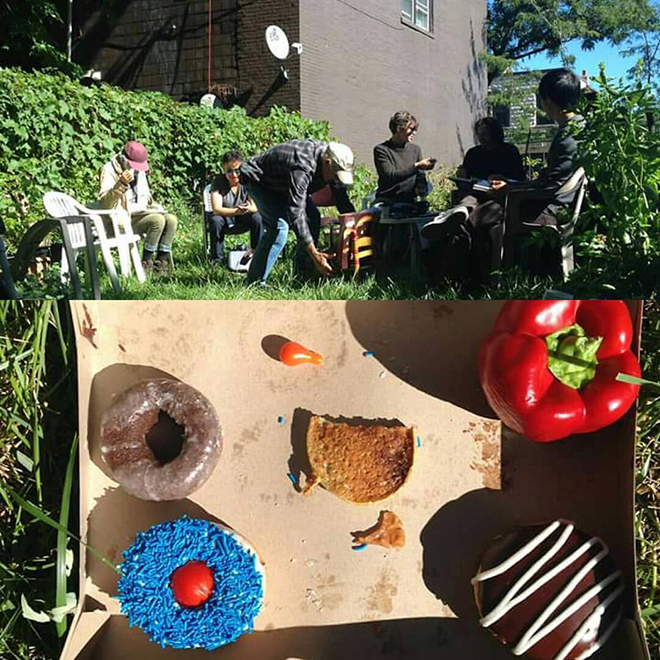 Today's participants devised fictional caucusing recipes for electing eaten candidates. A donut, pepper, tomato, apple and mung bean dosa were put through an array of group decision making processes. Should they be left for the squirrels to decide? Do we check participants tongue colors? Listen to belly noises?
Join next week for more experimental voting methods!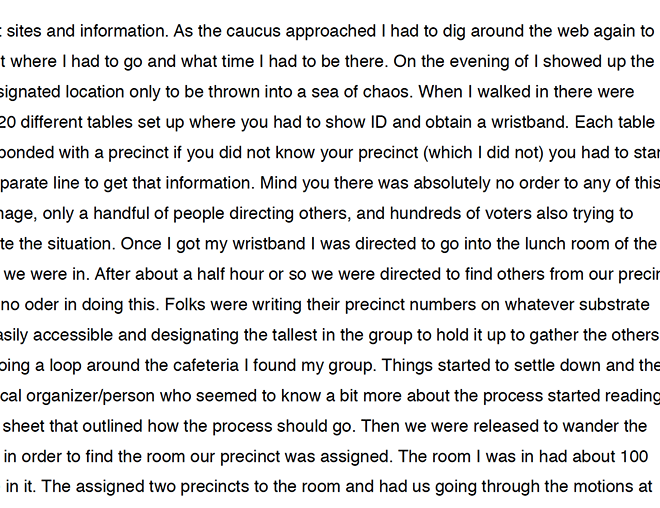 First hand accounts of caucuses were read during this week's discussion. Join in the autumn garden for fictional caucusing, apple chomping and shirt tucking! Casually at Small World Books Sunday 12-4pm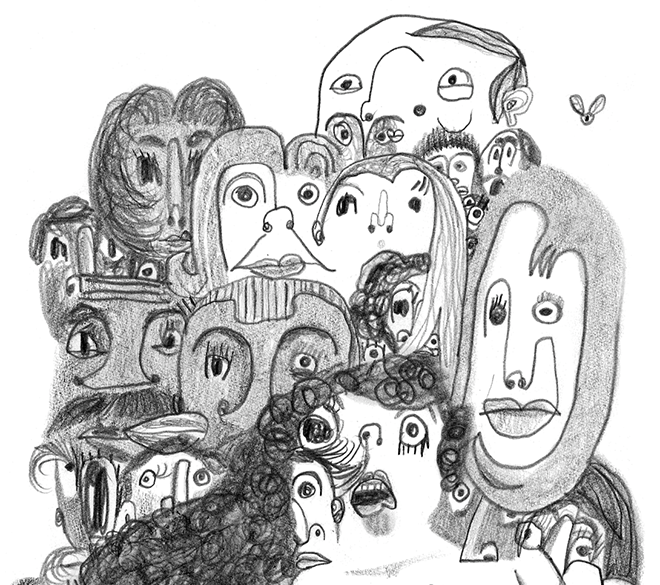 Come out this Sunday for thoughts and activities on the patchwork of state primary caucuses. Potluck casually in the Small World Books teepee garden.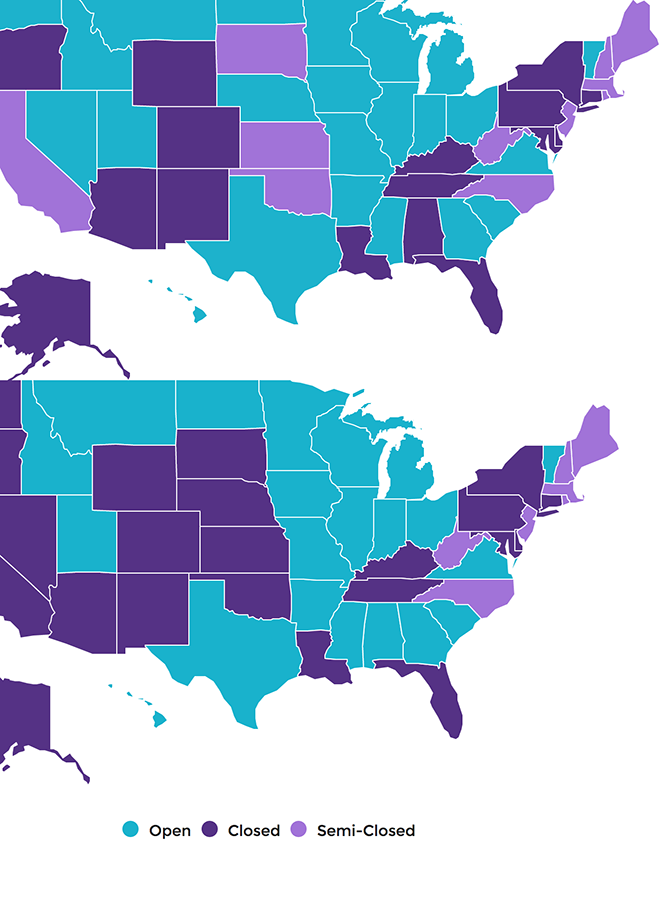 Join casually for this week's discussion on primary and caucus. Small World Books brisk garden sun with dosas and apples. Fall sweater socks!
Sunday 9/18 (State-to-State: Felony, Voter ID, and Turnout)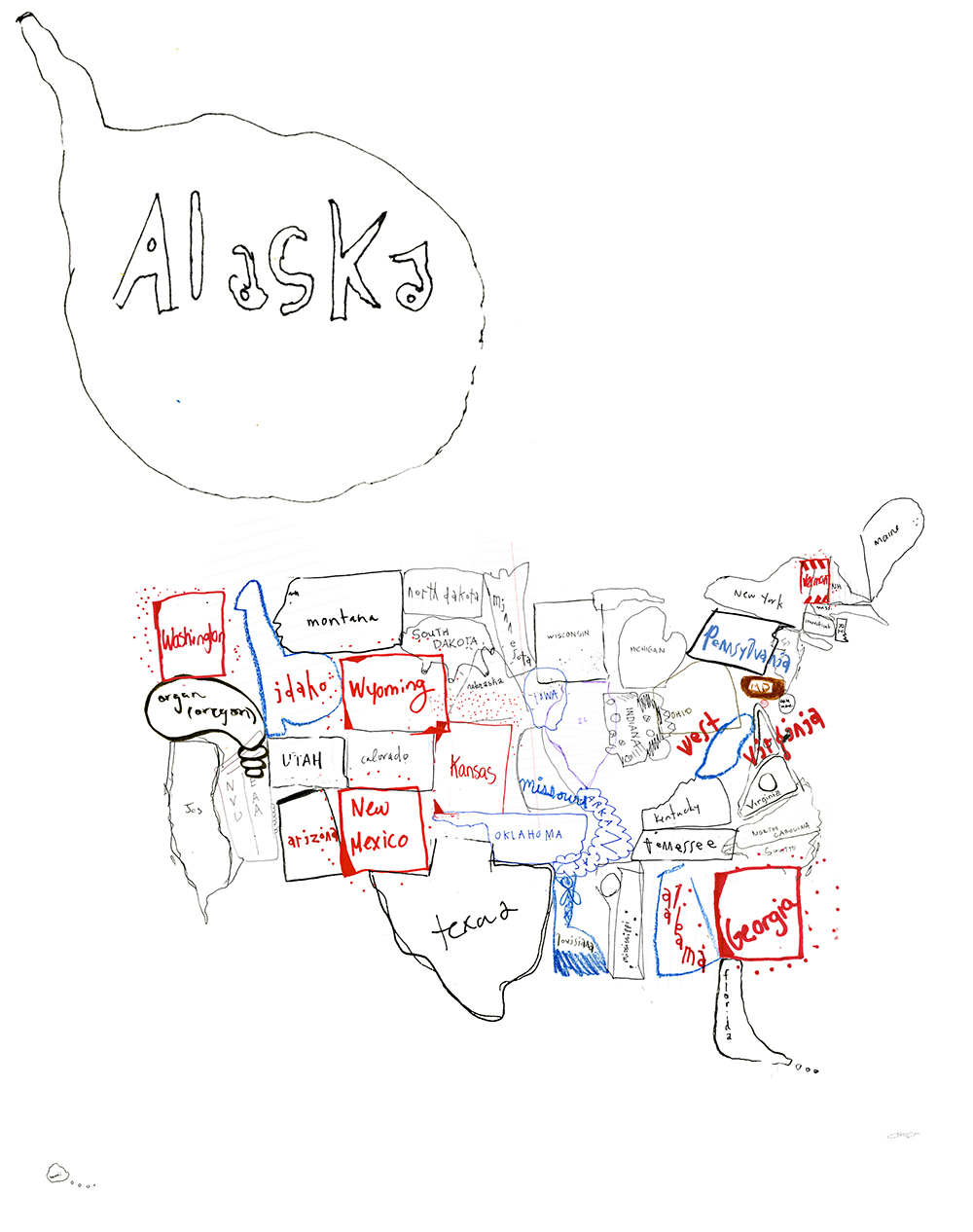 States drawn individually from memory by this week's participants. Proportionally assembled afterward. United?
"A patchwork of state felony disfranchisement laws, varying in severity from state to state, prevent approximately 5.85 million Americans with felony (and in several states misdemeanor) convictions from voting. Confusion about and misapplication of these laws de facto disenfranchise countless other Americans." -ACLU
We'll be talking this and more Sunday in the Small World Books garden.
Join casually. Potluck snacks. Also, Rochester Sketches, a local sketching group, has been meeting up at Small Votes the past couple weeks. Adding perspective while attentively drawing!

Sunday 9/11 (Age, Rights, Duty and Apathy)
Last week, we gathered in the Small World Books garden to hash out some details of various states' voter registration forms. Amazing differences in homeless/rural locational map drawing requests, political party affiliation needs, felony/incarceration restrictions, and even bigamy and timber larceny notices! We'll have them on hand this week, along with the intriguing fake voter registration forms participants made in reaction.
This Sunday 9/11 we'll be exploring our civic environment though the lens of age accessibility, participation in governement at the highschool level, voting rights history and the context/roots/effects of civic apathy.
Join us, in the beautiful backlot garden of the bookshop for some potluck biscuits, fruit, and engagement of these topics through creative activities. Bring friends!
Check out details from last week: Small Votes: Weekly Autumn Sunday Afternoons (9/4 Registration) Fake voter registration forms created to be posted soon!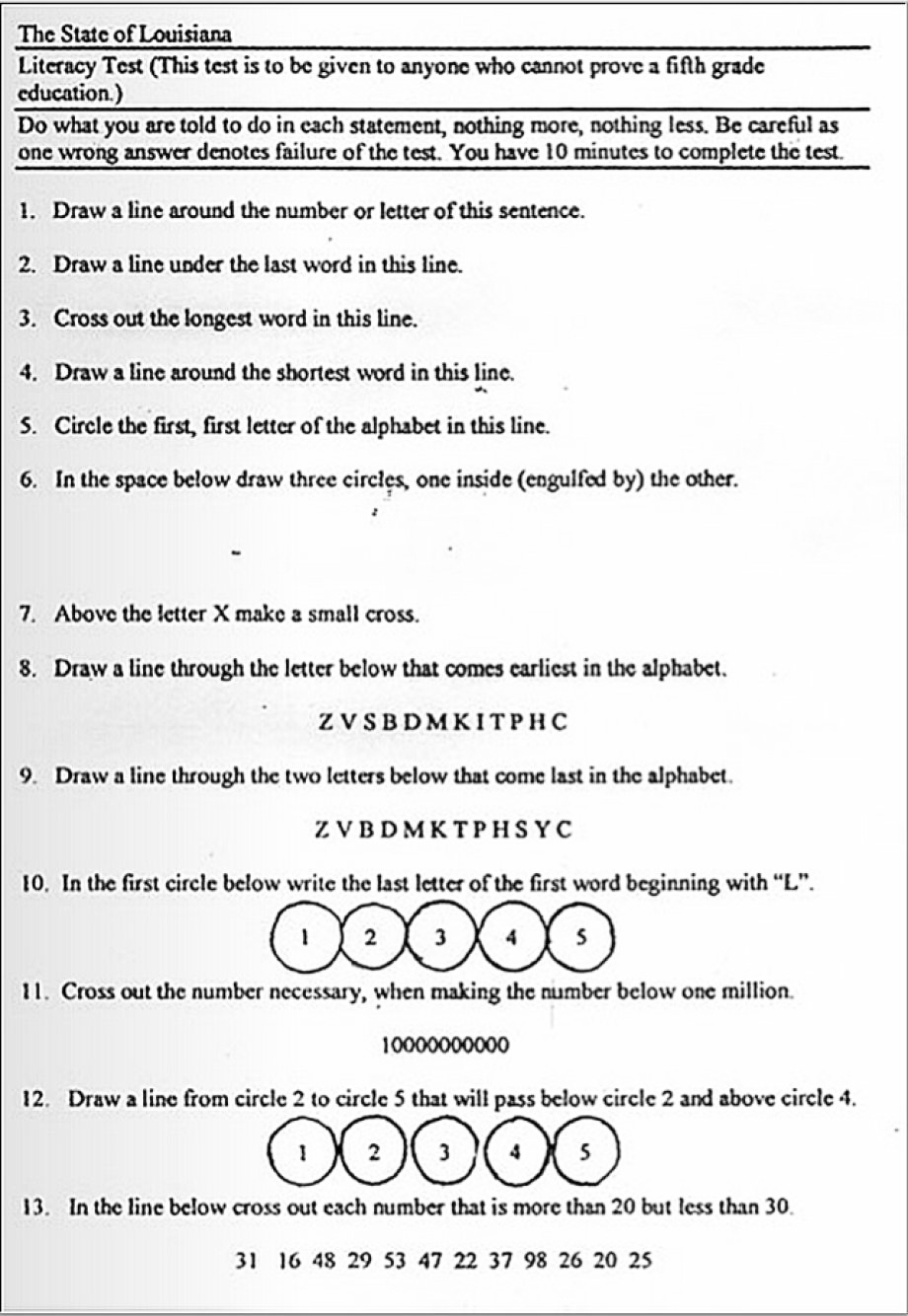 Louisiana, Voter Eligibility Test, 1969

Sunday 9/4 (Registration and Affiliation)
Explore Registration and Affiliation this Sunday! Compare and contrast each state's unique voter registration forms, and make your own. Join casually at Small World Books noon-4pm. Hot drinks, apples, free and open to public! #smallvotes
Contrasting states' voter registration forms in the garden until 4pm at Small World Books. Join casually today or come out for future civic discussions this fall!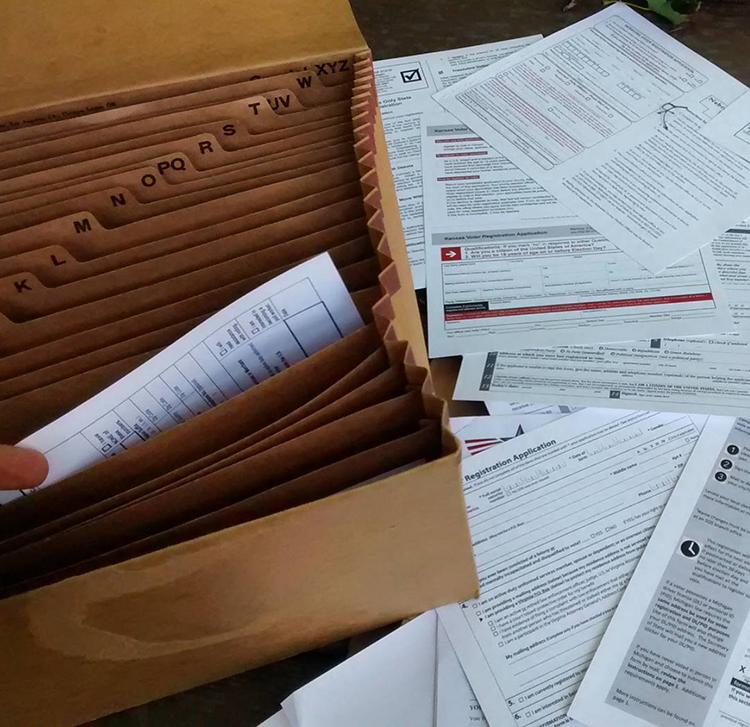 After discussing various state's forms and policies, some fake voter registrations emerged in the bookshoop garden.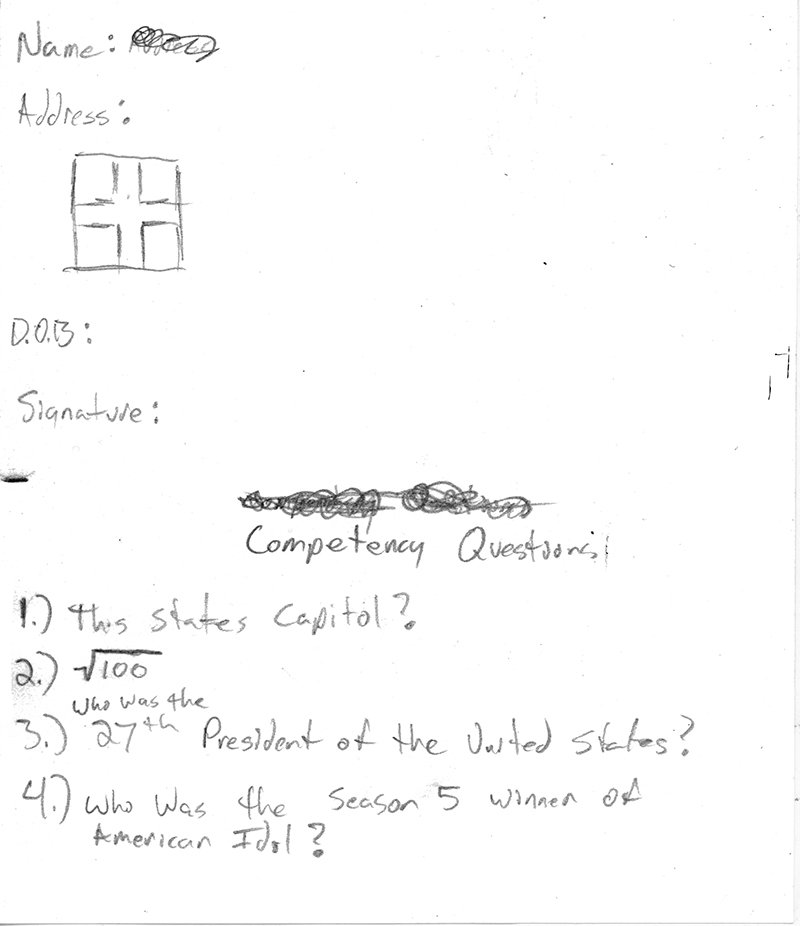 Eric, Patty,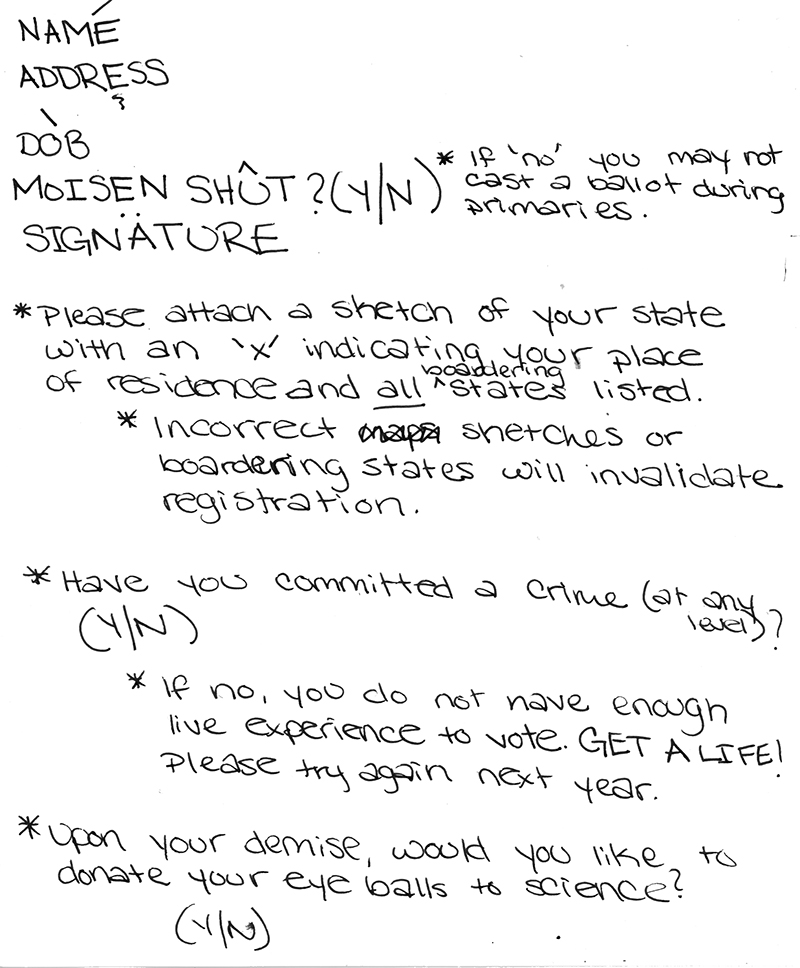 Robert, Sam,